Duaba Beach, Cuba.
Welcome to Playa Duaba, a coastline of gray, almost black sand on the Cuban coast! In this article, we will show you everything this beautiful destination has to offer. From where to stay to what to do and when is the best time to enjoy the most, here you will find valuable information to plan your trip.
Where to Stay in Duaba Beach?
One of the first things you should consider when planning your trip to Duaba Beach is where to stay. Although Playa Duaba is a quieter destination compared to some other Cuban beaches, you will still find lovely accommodation options.
The main option is private houses, which are abundant in the neighboring town of Baracoa. If you are looking for a more authentic experience and want to meet the locals, consider staying in a casa particular.
These homestays offer private rooms and the opportunity to connect with Cuban culture in a unique way. Local hosts often greet travelers warmly and can provide valuable tips on exploring the area.
On our website you will find accommodation near Playa Duaba and throughout Cuba. Don't miss the opportunity to get ahead of other travelers and secure the ideal place to spend your vacation in Cuba, which literally fills up during the peak tourist season.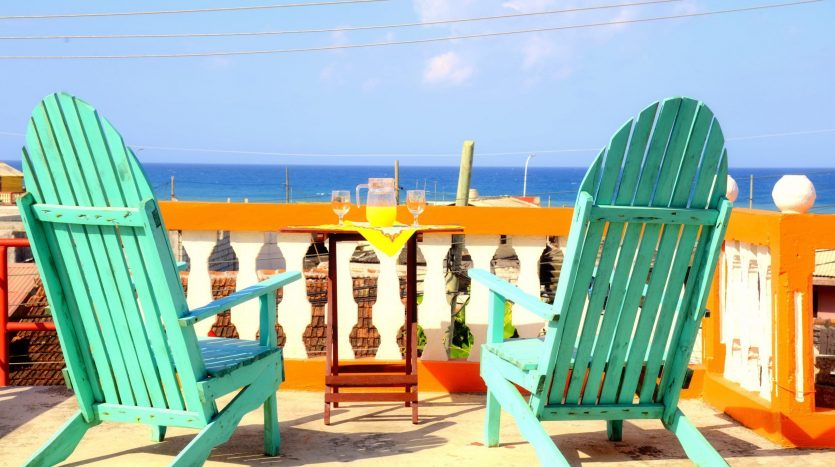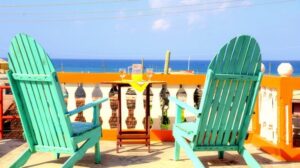 How to Get to Duaba Beach?
Although Playa Duaba is a more secluded destination compared to other beaches in Cuba, it is still accessible to travelers. Getting to this paradise is easier than you think.
The most direct way is to take a flight to the Gustavo Rizo airport in Baracoa, the city where we recommend staying, and then travel by taxi 10 minutes to the beach.
Another interesting option is to get to Duaba Beach by boat. This can be especially exciting if you are looking for a unique experience. There are boat excursion options available from different locations in Cuba, such as Santiago de Cuba or Baracoa. During the boat trip, you will have the opportunity to enjoy panoramic views of the coast and maybe even see dolphins playing in the water.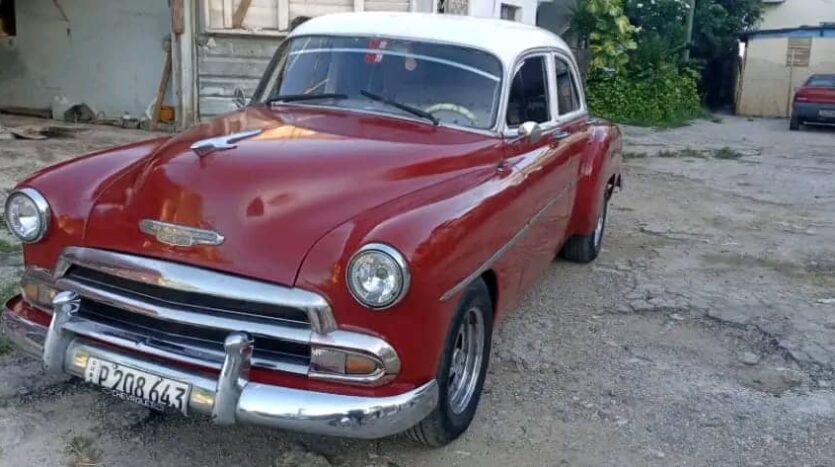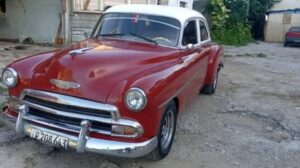 Where to Eat in Duaba Beach?
food at Duaba Beach
Cuban food is famous for its flavor and authenticity, and in Playa Duaba you will have no shortage of options to satisfy your appetite.
Local Restaurants: Try local flavors at nearby restaurants. Order traditional Cuban dishes such as rice and beans, roast pork or congrí. These restaurants often have a relaxed atmosphere and stunning views of the sea.
Food at home: Some private homes also offer homemade meals. You can ask your hosts about this service. This is a great way to try authentic Cuban cuisine, just as it is cooked at Cubans' homes.
The best time to visit Duaba Beach
The beauty of Duaba Beach is that you can visit it all year round. Cuba's tropical climate means that temperatures are warm all year round. However, if you prefer to avoid the rainy season, the best time to visit Duaba Beach is from November to April. During these months, the climate is drier and the temperatures are very pleasant to enjoy the beach and outdoor activities.
These conditions are quite similar to those of the rest of the beaches in Cuba, if you want to know where those beaches are read our article on the "best beaches in Cuba"
What to do in Duaba Beach?
what to do in Duaba Beach
Now, the most exciting thing: the activities you can enjoy at Duaba Beach. This small beach has a lot to offer.
Waves and history at Duaba Beach
Duaba Beach preserves the island's pleasant Caribbean climate, but stands out among the other beaches in Cuba for its black sand and its historical significance. Several Cuban independence heroes landed there in April 1895, during the restart of the fight against Spanish colonialism. Among those heroes was Antonio Maceo, known as the Bronze Titan.
Today there is a monument in memory of the landing, I recommend you visit it, it is simple, but very interesting and inspiring.
Hiking in Duaba Beach
Something you can't miss if you are in Playa Duaba and you like nature is the opportunity to explore the trails that surround it. The vegetation is hirsute in the area and provides an environment of challenging natural beauty. The best-known trail is the one that leads to El Yunque, an anvil-shaped mountain that is an icon of the region. The hike is moderate and will reward you with spectacular views.
Boat Excursions along Duaba Beach
Cuba boat excursion
A boat ride is a perfect way to explore the surrounding waters and enjoy the sea breeze. You can join a boat excursion that will take you to nearby places of interest, such as the Punta de Maisí Lighthouse, Taco Bay or the Yumurí River.
You can obtain information about the excursions available at the tourist information points in Baracoa.
Duaba Beach awaits you!
Baracoa near Duaba Beach
Duaba Beach is a historic and distinct coastline hidden on the Cuban coast that is worth visiting. With its natural charm and a variety of activities to enjoy, this destination provides you with an unforgettable experience. So don't wait any longer, Duaba Beach is waiting for you to discover it! Whether you're looking to relax on the beach, enjoy exciting water sports, or immerse yourself in Cuban culture, Playa Duaba has something for every traveler. Prepare your luggage and start your adventure in this Cuban paradise!
Frequently Asked Questions about Duaba Beach
Where can I stay in Duaba Beach?
You have two main options for staying in Playa Duaba: local hotels that offer comfort and access to the beach, or casa particulars where you can experience authentic Cuban life and connect with locals.
On our website you can find accommodation options in private homes throughout Cuba.
Is it necessary to carry cash or are credit cards accepted at Playa Duaba?
It is advisable to bring cash, as not all places in Playa Duaba accept credit cards. You can change your money to the local currency, the Cuban peso (CUP), at local exchange offices.
What nearby attractions can I visit from Duaba Beach?
In addition to enjoying Playa Duaba, you can explore the city of Baracoa. There you will find museums, historical sites and a lively cultural scene. You can also visit the nearby nature reserves and other beaches such as Playa Maguana.
Is Duaba Beach a safe destination for travelers?
Yes, Duaba Beach is generally safe for travelers. However, like anywhere, it's important to take normal safety precautions, such as taking care of your belongings and following local guidance. The hospitality of the locals is a notable feature of the area